Title: A Woman's Touch
Author: Linda Hoyland
Characters/Pairing: Aragorn, Halbarad OMC
Rating: G
Warnings: none
Book/Source: LOTR book-verse
Disclaimer - These characters all belong to the estate of J.R.R. Tolkien. This story was written for pleasure and not for financial gain.
Dedicated to Nath with grateful thanks for the idea
Thanks to Raksha for editorial assistance.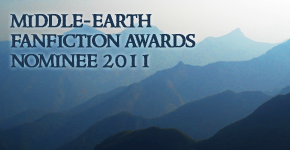 The three Rangers sat round the fire scowling over their task.

"I miss my mother," said Halbarad.

"So do I," said Aragorn.

"I mean to get married soon," said the youngest.

"As chieftain I will be happy to perform the ceremony," said Aragorn. "I did not know you had a sweetheart, though. You are very young yet to wed, Gilavir."

"Who is the fortunate maiden?" asked Halbarad.

"I've no idea," said the lad, frowning as he dropped a stitch. "She can be young or old, fair or homely. All that matters to me is that she can knit socks!"